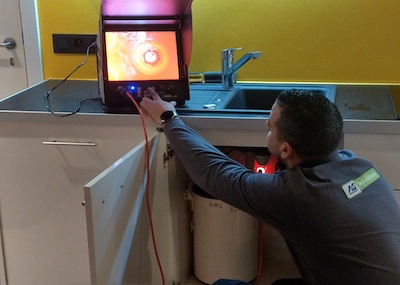 The challenge
For more than 10 years, DrySolutions has specialised in identifying the causes of water damage in homes. Around 30 technicians are on the road every day looking for water leaks, analysing the causes and suggesting possible solutions.
"For us, a track & trace system is particularly useful to know exactly where our technicians are on the road.", explains Pascal Menten, managing director at DrySolutions. "It often happens that customers call our back office to ask where the technician is. Being able to respond quickly is important for customer confidence."
Another point of attention is the driving behaviour of our drivers. "We have a close cooperation with the insurer AG Insurance with the result that we are strongly committed to safety and prevention. So to be consistent with this mission we also want to encourage safe driving behaviour."
Until the beginning of 2019, DrySolutions used a track & trace from another party to manage its fleet. "However, their system was too cumbersome.", says Pascal. "An external party always had to come in to build the tracker into the vehicle, which means you lose a lot of time when replacing a vehicle. Moreover, this was also very expensive."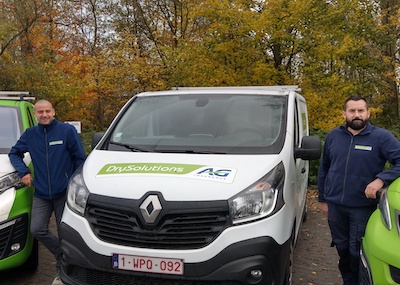 The solution
DrySolutions finally chose ProDongle's track & trace system in 2019.
"One of the main reasons for switching was the convenience of ProDongle's Plug & Play technology.", says Pascal. "You can install their tracker or 'dongle' very quickly yourself in the OBD port of the vehicle without external intervention. As a result, we realise enormous cost and time savings."
Furthermore, Pascal is a fan of the interface of the accompanying ProDongle application. "Since the Plug & Play tracker sends a new position up to 20 times a minute while driving, we can follow our vehicles real time 24/7 and all this in a user-friendly, mobile app. When a customer calls to ask where our technician is, we quickly check the app to reassure them."
Pascal and his team now also have access to automatic reports for trip, mileage and working hour registration. "Thanks to ProDongle we now also know how long our technicians have been with the customer. Sometimes customers report to us that our employee had left very quickly. With the reports from ProDongle, we can carry out a second check to see how long the vehicle actually stood still at the customer's premises."
Finally, DrySolutions uses the driving behaviour score to encourage their employees to drive better. "ProDongle's driving behaviour score mainly takes into account speed violations, which I find very practical.", says Pascal. "We immediately included the driving behaviour score as criteria for a company-related bonus. For example, our drivers had to collectively reach a driving score of at least 80 points to receive a higher bonus. Last year, we ended up with 82 points, a considerable increase compared to the previous period. So we can say that this feature has helped us, not only to encourage safer driving, but also to make our employees extra happy. We are fans of ProDongle."
"Personally, I would definitely recommend ProDongle, also because their team is constantly thinking with you and developing new features that make the system even more valuable."
Solutions used: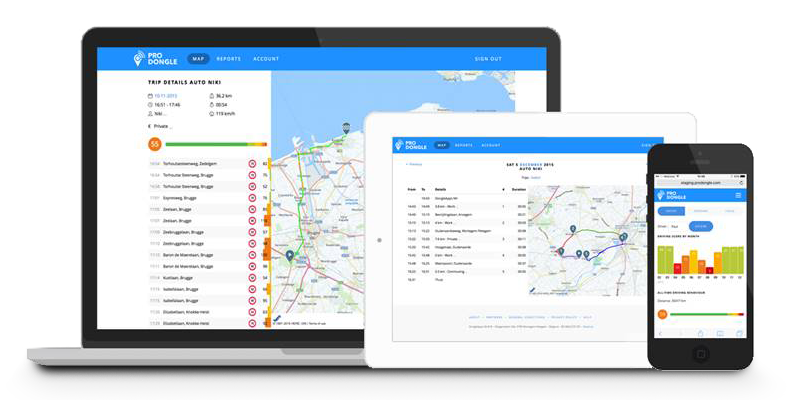 Do you also want a complete product without surprises?
Easy to use
Pan-European operation with professional maps
Unlimited positions, kms & users
Helpdesk, software & map updates included
Accessible via any PC, smartphone and tablet
Own software, integration via API possible